Hi all! Happy Friday! What were you up to today? I had a to-do list a mile long, including putting out all the donation bags for the vets truck, dropping off book donations for my daughter's K teacher who is moving up to 3rd, and dropping off 8 bags of kiddie books/toys/shoes/clothes to a friend that my girls have outgrown. It feels so good to purge sometimes!
So I did end up revising the number poster packs I posted yesterday (thanks, Sharon, for your input! You were thinking what I was thinking.). Now they all have the plain fontrather than the font with handwriting lines. I think it looks cleaner. Hope you like them, too. While I was fiddling around with those, I really kind of fell in love with the chevron set, so I made the alphabet poster sets to match (regular and D'Nealian, which my school uses). Tada!
D'Nealian version
Anyway, while all of that was going on, I got the sweetest comment from fellow first grade teacher Jenny at
The Mrs. B. Blog
who has gifted me the Liebster Award. Now, Jenny did the legwork in figuring out that Liebster means "dearest" (awww!), and the award is for smaller blogs who have less than 200 followers (hmm... welp... check! lol).
Now, kids, like all blog awards, this one has a few rules. They are:
1. Link back to the person who nominated you.
2. Answer the questions from your nominator.
3. Share 11 random facts about yourself.
4. Nominate 5 more blogs with less than 200 followers.
5. Pose questions for your nominees.
Whew! This is gonna be a long post, folks. I'll try to break it up with a few pictures. ;) Ok, I'm gonna tackle the first two together. Here are my answers to
Jenny's
questions (her blog is lovely. Go visit. I'll wait!). There are a bunch, here goes:
1. Who was your favorite teacher?
I have two. One was Mrs. Lang, my Gifted teacher in second grade, because she had a typewriter on a table and one day when I said I would like to learn how to type, she said, "Let's do it!" And during our independent project time, she let me practice. Of course, this was in the early 80's before everyone had computers (even schools), so typing was like a super cool big deal. At least to me. My other favorite teacher was Mrs. Ritts, my fifth grade teacher, who called me a writer. She read my writing to my sister's class three years later. That made a huge impression on how I saw myself.
2. Why did you start blogging?
I have actually had 3 blogs before - one for family updates, which I stopped writing when I hit the free picture hosting limit (lol), one with funny teacher stories, which I stopped writing because even though it was really just cute and positive and no one was ever identified, I was worried about telling school stories online, and one for aspiring writers, which I used for a long time but stopped about 2 years ago. I have moved away from those but after 17 years teaching first grade I am still learning and feeling creative, so a teacher blog seems natural!
3. Do you have any pets?
Yes, a Chow Chow dog named Pippin (after the musical) who will be 15 in October. Handsome Hubs and I had her before we had children and now she is old, not eating much, and slowing down. Every day with her is a gift.

4. What is your favorite cleaning product?
Not really a school cleaning product, but my Bissel SpotBot Pet (it's a portable carpet cleaner for smaller spots) is a MUST at home for cleaning up after 2 kids and a dog!
5. Where is your favorite vacation spot?
Vermont!!!! Give me mountains any day. I grew up a city kid and all I wanted was to live in an area with deer, and now I do; I live in a lovely, open air, farmy, wildlify part of NJ. But there is something about the mountains of VT that is just perfection. We are headed there this coming week! Fun fact: The picture of me on my blog was taken in VT. :)
6. What is your favorite holiday to celebrate at school?
Hmm. That's hard to say because we don't celebrate Halloween at my school (we have a Fall Fest) and we don't do Christmas carols and things like that, but I am one of the two leaders of a first grade peace concert (we usually have about 170 first graders) around the winter holidays. My school population is mainly children who are first generation Americans, so we acknowledge a lot of national and worldwide holidays and I still learn about holidays that are new to me all the time.
7. Which subject is your favorite to teach and why?
Writing, since it is such a passion and hobby of mine, and Reading for the same reason. Student growth in those areas is SO huge and rewarding in first grade!
8. If you weren't a teacher, what would you be doing?
Hopefully, I'd be a novelist! :)
9. What is your favorite kind of cookie?
Anything chocolatey!
10. What is your favorite school supply?
Oh, toughie! I love stickers and gel pens/markers for praising kiddie work. I have a really cool scrapbooking bag with great pockets as my teacher bag (It's an AMMS On-the-Go Tote Ally Cool 2 bag). Seriously, friends... the pockets in this bag are perfect... It has these two strong, tall inside pockets that I guess are supposed to be for scrapbook papers but are perfect for my marked/unmarked papers. Plus it has little pockets inside and penholder loops. And see those little pockets on the front? There are 3 on the back. They are big, you can stand markers up in them and they fit all the way down in. I wish I knew where to link you to this bag online but I can't find it anywhere! I got it at Target a few years ago.

11. How far do you commute to school?
30 minutes down long, windy back roads. I drive past a quarry that is surrounded by wildlife and Rockingham, George Washington's home in NJ. It's beautiful and historic and quiet. I love my drive, it's my "me" time!
Whew... ok... now I have to share 11 random facts, right? You might need to go get some coffee to make it through this post! Or, wait, I might... be right back!
Ok, back with some coffee in the BEST mug: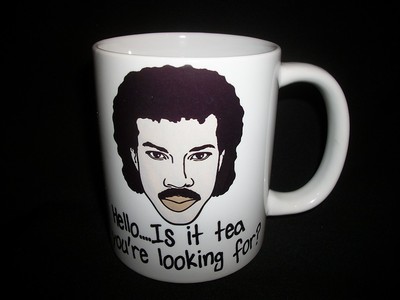 No, it's coffee, but I'm not gonna argue with Lionel.
Where was I? 11 random facts? Alrighty:
1. This one is random but cool! Scholastic Instructor came and did a photo and video shoot in my classroom (and some teacher friends of mine) for a feature on classroom setup. It should be in their Back to School issue. I'm not sure if that comes out in Aug or Sept since they publish 8 issues/yr. I will definitely let you know when it does! (I'm kinda nervous about it!).
2. I have never been out of the country BUT will likely make a day trip to Canada next week while we are in Vermont. That'd be cool!
3. I am currently having a philosophical difference of opinion with the tiny ants in my kitchen regarding their right to be there.
4. I have a daughter whose name is a place and a daughter whose name is a color. But on this blog, they go by Tootsie Roll and Curly Jones. :)
Me with Tootsie Roll
Me with Curly Jones, who plans to be a super hero when she grows up!
5. This December, Handsome Hubs and I will be celebrating our 15th wedding anniversary! :)
6. I have only read some of the Harry Potter books. (I know, to some this is blasphemy!)
7. My classroom theme was Busy Bees for about 11 years (before that, I didn't have a theme, we were "Room 106 Friends") and last year I changed it to Wise Owls. I literally called Handsome Hubs from the teacher store because I was having an identity crisis buying all new stuff lol.
8. I have scoliosis (my spine is shaped like an "s"). It doesn't affect me much now, but in high school I had to wear a back brace like Deenie. And glasses. And braces. It was a highly graceful period of my life... ;)
9. After many years of owning an SUV, I downsized to a hybrid car in January. I LOVE IT and I get over 40mpg! I save soooo much on gas! I am a total hybrid car fan now.
10. Every spring baby birds hatch in my yard. Last spring, it was robin babies that my kids named Catastrophe (and I forget the rest). This spring, it was bluejays named Chartreuse and Teeny Tiny.
11. My birthday is in 2 days! :D
So here are the 5 blogs I nominate for the Liebster Award. Visit their teachery goodness!
These ladies and their blogs are adorable so please check them out! Here are my questions for them, and then please get yourself a treat for reading this far!
1. Do you have a classroom theme? (If so, what is it?)
2. Is your school urban? Suburban? Rural?
3. Name the one food or drink that is on or in your desk at all times.
4. When is/was your first day back?
5. What makes you most nervous about Day 1?
6. What calms you down on Day 1?
7. What will you miss about last year's class?
8. What is something new you want to try this year?
9. How many of your grade level are there in your school?
10. How long is your drive to school?
11. What is on your radio on the drive to school?
Ok, I'm wiped out! Lol. :) Hope everyone has a great weekend! I'm packing for the mountains!!!